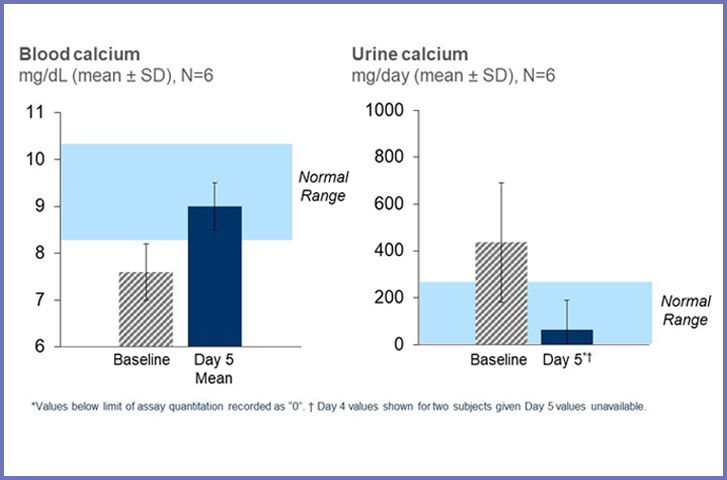 NEWS RELEASE:
BridgeBio pharma announces proof-of-concept data of Encaleret in ADH1 at the Endocrine Society's 2021 annual meeting
This is one of the moments we've been waiting for…
We are incredibly excited to share that Calcilytix, a Bridgebio Company, announced early results from an ongoing Phase 2b proof-of-concept, open-label study of encaleret for the treatment of Autosomal Dominant Hypocalcemia Type 1 (ADH1). The data are featured in an ePoster presentation titled 'The Effects of Encaleret (CLTX-305) on Mineral Physiology in ADH1 Demonstrate Proof-of-Concept: Early Results from an Ongoing Phase 2B, Open-Label, Dose-Ranging Study' at the Endocrine Society's 2021 Annual Meeting (ENDO 2021) taking place virtually from March 20th – 23rd.
"In these initial results from the Phase 2b study of encaleret in ADH1, blood and urine calcium levels were normalized in all trial participants within five days of treatment." said Rachel Gafni, M.D., Senior Research Physician and Head, Mineral Homeostasis Studies Group of the National Institute of Dental and Craniofacial Research, National Institutes of Health (NIH).
Throughout this initial period of dose escalation, encaleret was well-tolerated with no serious adverse events and no adverse events of moderate or severe intensity reported. Two participants experienced transient, asymptomatic hypophosphatemia which was the only treatment-related adverse event. The tolerability and consistent mineral responses following encaleret administration in all six ADH1 trial participants demonstrates proof of concept that encaleret may be an efficacious therapy option for ADH1.
BridgeBio will host a conference call and simultaneous webcast to share updates on the encaleret proof-of-concept data in ADH1 on March 22 at 8:00 a.m. ET. To access this call, dial (800) 379-2666 (U.S.) or (409) 937-8964 (International). Conference ID: 7371879. A link to the webcast may be accessed from the event calendar page of BridgeBio's website athttps://investor.bridgebio.com/. A replay of the conference call and webcast will be archived on the Company's website and will be available for at least 30 days following the event.
Calcilytix is still actively recruiting for this open-label study of orally-administered encaleret that is taking place at the National Institutes of Health in Bethesda, MD (USA). Interested individuals may contact the NIH directly.
Study Location & Contact Information
National Institute of Health
Bethesda, Maryland, United States, 20892
Contact: Karen A Pozo, R.N.    301-827-1138    karen.pozo@nih.gov  
Principal Investigator: Rachel I. Gafni, MD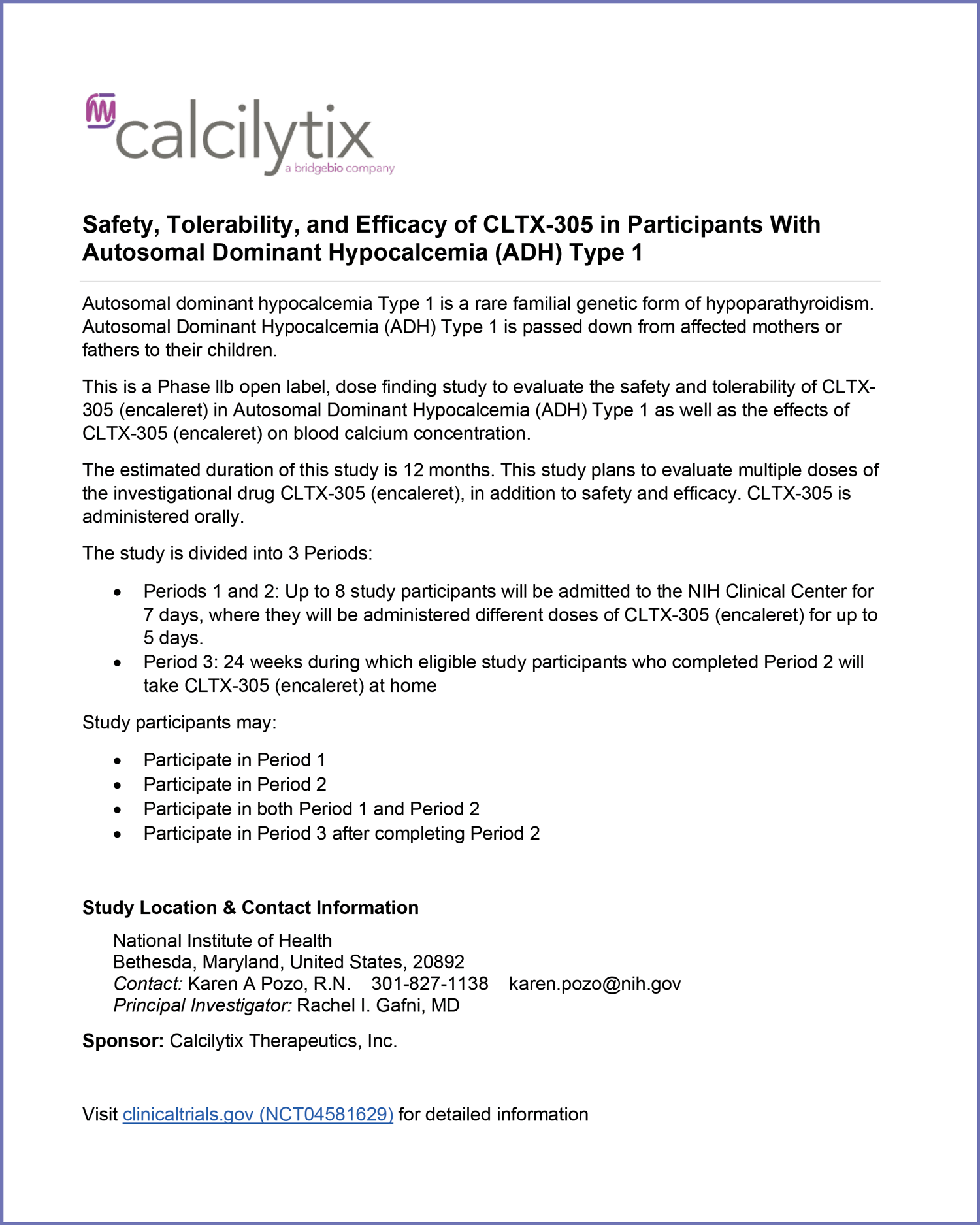 ---
REMEMBER
This information is provided for educational purposes only. It should not be used for diagnostic or treatment purposes. If you wish to obtain more information about this disorder, please contact your personal physician.