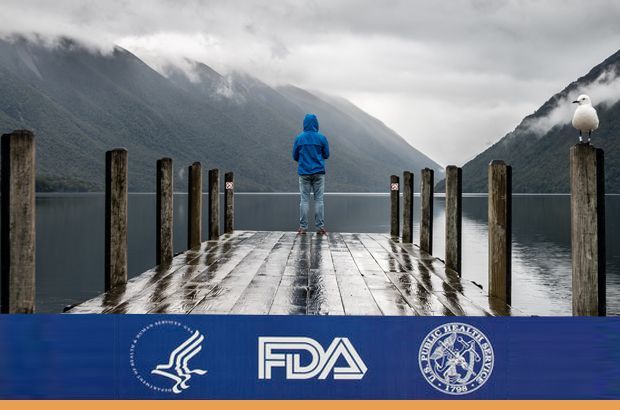 We Need Your Help For FDA Approval of New Treatment Options!
This is your chance to be heard! We are now preparing to approach the FDA with our concerns and needs as Hypoparathyroid patients and we need your help. 
We want you to tell your story on what it's like to live with Hypopara. Share what your quality of life is without new treatments, what your unmet needs are and/or how the Standard-of-Care is just not working for you.
We drafted this letter that you can personalize and send to Commissioner Dr. Stephen Hahn and Dr. Janet Woodcock, Director CDER in regards to what HypoPARAthyroidism is and why we need new treatments available.  It covers both the Natpara situation as well as TransCon and we are asking for them to take notice and please move forward.  In the middle section of the letter is a spot for you to write your story. Sign the letter at the bottom and send to these emails including ours at Hypopara.org. This is just the beginning! 
Following are the emails along with the names and address blocks that you can copy and paste in place for each of the people (See letter picture below for example)
Stephen.Hahn@fda.hhs.gov
Address the letter to Dr. Hahn using this address block
Food and Drug Administration
Stephen Hahn, MD
Office of the Commissioner
Building One
10903 New Hampshire Ave
Silver Spring, MD 20993-0002
Janet.Woodcock@fda.hhs.gov
Address the letter to Dr. Woodcock using this address block
Janet Woodcock, MD
Director, Center for Drug Evaluation and Research (CDER) 
Food and Drug Administration
White Oak Complex
Building 51; Room 6133
10903 New Hampshire Avenue
Silver Spring, MD 20993
dmurphy@hypopara.org
Address the letter to Deb Murphy using this address block
Deb Murphy
President, HypoPARA Org
695 Montecito Ct
Lemoore, California 93245
Click the letter below to download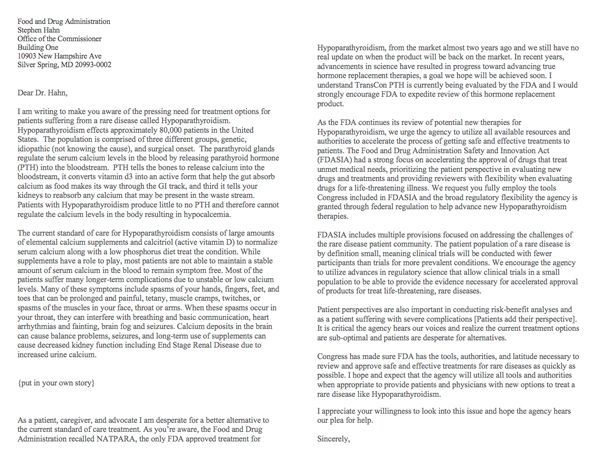 ---
REMEMBER
This information is provided for educational purposes only. It should not be used for diagnostic or treatment purposes. If you wish to obtain more information about this disorder, please contact your personal physician.