On June 1st we celebrate World Hypopara Awareness Day! On this day, we like to focus on education, awareness and connecting with our community. WHAD 2020 is one of our most exciting days yet! We are proud to share the results of our recent "Voices of Hypopara" survey, which demonstrates the many struggles of the hypopara journey. 
---
Voices of Hypopara Survey
The Voices of Hypopara survey was conducted by the HypoPARAthyroidism Association to highlight the experiences of patients in the U.S. who are living with hypopara. 146 members responded and answered questions about their diagnosis, symptoms, treatment and medical care. 
Patient Journey: Diagnosis
Difficulties in the hypopara patient journey begin as early as diagnosis. Half of the survey respondents reported that they needed more than 5 physician visits to be diagnosed with hypoparathyroidism. Diagnosis took more than a year for 25% of participants and more than a decade for ~10%.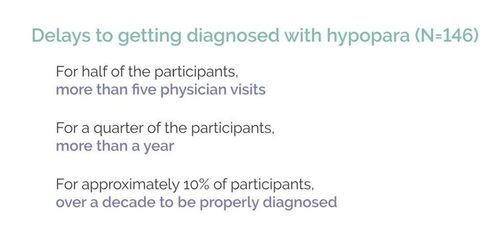 Patient Journey: Treatment and Care
Nearly all patients received standard-of-care treatment (calcium and active vitamin D), and the majority felt their treatment was moderately to extremely burdensome.  In addition, almost all patients changed their medication regimens at some point, with 61% changing more than five times since being diagnosed in order to manage hypopara symptoms.
Patient Journey: Calcium Crashes
Despite frequent regimen changes, hypopara patients still experience "calcium crashes", which are potentially life-threatening decreases in blood calcium levels, which can cause an inability to speak or breathe, involuntary or painful muscle spasms and seizures. Calcium crashes may require IV infusions of calcium in order to restore the blood calcium level.  In this survey, an overwhelming 69% of participants reported experiencing a calcium crash at least once in the past year. Of these, 43% reported calcium crashes weekly or monthly, and 4% daily. 
Additionally, approximately 42% visited an ER and/or urgent care facility in the last year to address their symptoms; half of these visited two to four times, and another 18% visited the ER and/or urgent care even more often in the past year.
63% of those who visited the ER and/or urgent care received IV calcium to manage their calcium crash; a quarter of these patients received IV calcium 5 or more times in the past year
Patient Journey: Challenges
Hypopara presents a number of challenges for patients, including reduced quality of life, managing symptoms, maintaining psychological well-being and preventing long-term complications.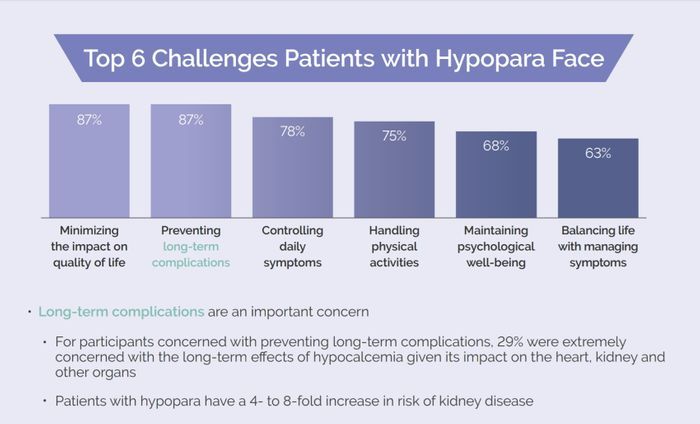 Voices of Hypopara: Conclusion
Please click on the Association logo below to review the full Fact Sheet, which contains additional detail and explanation:
The Hypoparathyroidism Association is very pleased to share these results globally; please click the logo below to download the full press release:
---
World Hypopara Awareness Day Patient Videos